Eligibility & Nominations
a. Eligibility of candidates:
Candidates may be individuals, groups or organisations from any country;
Candidates may include staff or students of the PLuS Alliance member Universities;
Each candidate (individual, group or organisation) must be nominated by a nominator who meets the eligibility criteria in these Guidelines, and nominations must be made in accordance with these Guidelines;
Candidates may only be nominated for the Prize in one category (i.e., either research innovation or education innovation) and must demonstrate that they satisfy the criteria for the category (see Judging criteria below).
b. Eligibility of nominators:
Nominators need to be a current professional or academic staff member, student, Emeritus Professor, Adjunct Professor, or alumni of a PLuS Alliance member University, and must provide their university email address for verification of compliance with this requirement;
Nominators must be over the age of 18;
Nominators may not nominate themselves (whether as an individual candidate, or as one of a group or organisation);
Nominators may only nominate once (i.e., in support of an individual/group or organisation in either research innovation or education innovation);
Nominations must be submitted in accordance with these Guidelines via the Thinkable web portal for education innovation, by the due date of 12 May, 2017.
Judging criteria
Entries should specifically address how the work of the candidate meets the following judging criteria (maximum of 1,000 words):
1. Innovation (maximum 300 words)
Describe in what way the research is innovative.
2. Significance and application of research (maximum 350 words)
Identify the importance of the research to a field relevant to one or more of the PLuS Alliance themes (sustainability, global health, social justice, technology and innovation).
Describe the change delivered – this may include, but is not limited to: translation into policy, clinical practice, or commercialisation.
3. Impact (maximum 350 words)
How has the research changed the field?
Describe the actual and potential impacts and benefits to individuals and society of the research.
Describe how the research has increased the body of knowledge in the research field.
Describe the scientific rigour of the research, including evidence that the research has undergone peer-review
If shortlisted, the candidate will be requested to provide two letters of support (maximum in aggregate of 2 pages) and the quality of the letters of support will be a judging criterion for the final selection stage (i.e. the Judging Panel stage). See Attachments, once a nomination has been activated, for the template for letters of support.
Nominations must include
All materials must be in the English language, or if originally in a language other than English, must be accompanied by a translation verified by an ISO 17100 certified translator.
Nominator details including nominator's current email address at one of the PLuS Alliance universities;
Contact details for candidate - individual or a representative for a group or organisation;
Synopsis of the education innovation;
Response to all applicable judging criteria;
Curriculum Vitae of individual candidate or where a group or organisation is nominated;
curriculum vitae for group/organisation representative;
Contact details of relevant group or organisation members (if applicable);
Profile of group or organisation (if applicable);
Candidate Agreement.
Supporting documents may be no larger than 10MB and may include (although not limited to):
Evidence of sustained (minimum of two years) evaluation and continuous improvement to the education item/teaching and learning
Evidence of impact
Demonstrable impact on student learning (academic results, retention rates etc.)
Evidence of commercialisation
Please note:
Submissions that do not meet the requirements will not be accepted.
Late nominations will not be accepted.
Funding Available
$25,000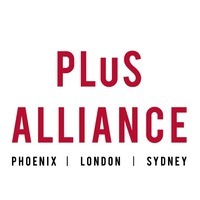 The PLuS Alliance is a collaborative effort of top tier research universities and educational leaders: King's College London, Arizona State University and the UNSW Sydney. It is by leveraging the combination of our expertise and strengths that we will be able to impact and address global challenges, improving lives around the world.